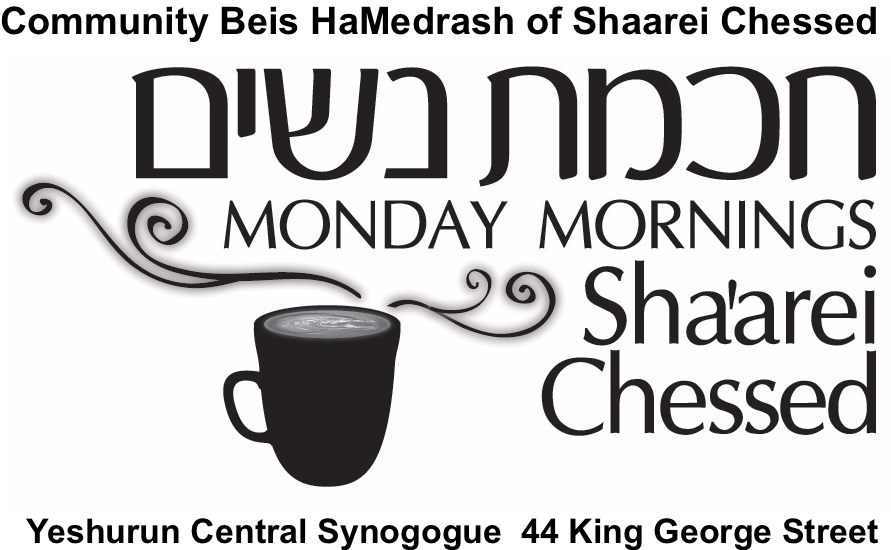 This Week's Schedule:
We are B"H back in Yeshurun. The zoom link remains active on the members homepage
The Shiurim today are sponsored by:
Judy Neiman
in memory of
פייגע בת משה אליהו ז''ל
ייערצייט י' חשבון
ת.נ.צ.ב.ה.
---
לזכות לרפואה שלמה
רפואת הנפש ורפואת הגוף
להבחור יוסף עזריאל בן חיה מיכל (רייט)
בתוך שאר חולה ישראל
10:15 - 11:00: Mrs. Hyndi Mendelowitz on Sefer Melachim and Tehillim
11:00 - 11:15: Coffee Break
11:15 - 12:05: Mrs. Rickie Rabinowitz on Parshas Chayei Sarah
12:05 - 12:15: Turnover Break
Guest Speaker
12:15 - 1:00: Rabbi Shmuel Herschler
on
Tefilla for rain: The splendor of His Bracha in Eretz Yisroel and Abroad
25 sh suggested donation for the day
Thank you for your assistance to cover the costs of the program.
Bank details for dedications, donations:
Acct name: Chachmat Nashim/ חכמת נשים
Bank HaDoar בנק הדואר
Snif : 001סניף
Account #: 27899446 חשבון
Thank you for your help to keep the program running.
Suggested donation 25 NIS
Thank you for your help to keep the program running