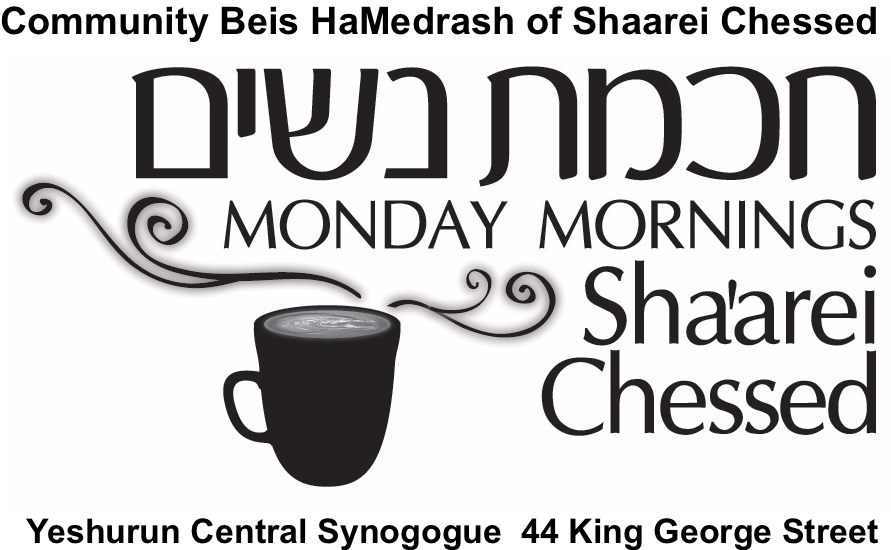 This Week's Schedule:
NOTE CHANGE OF LOCATION AND LIMITATIONS Classes will be held in Netzach Yisroel- corner IbnEzra/Ramban (Upstairs-no elevator). Adhering to the guidelines of the health ministry, WE ARE LIMITED TO 50 PEOPLE. Masks must be worn, and temperature will be taken along with a sign-in sheet.
The Shiurim today are sponsored by:
Charney Oppenheim
In memory of Louis Oppenheim
Arya Ben Yeshua ז''ל
Yartzheit 19 Tammuz
And in memory of Abraham Nemoy
Avraham Ben Hersh Leib ז''ל
Yartzheit 23 Av
ת.נ.צ.ב.ה.
10:15 - 11:00: Mrs. Hyndi Mendelowitz on Sefer Shmuel and Tehillim
11:00 - 11:15: Coffee Break
11:15 - 12:05: Mrs. Rickie Rabinowitz on Parshas Noach
12:05 - 12:15: Turnover Break
Guest Speaker
12:15 - 1:00:
There will be no third speaker this week.
The Zoom link has been posted on the member's homepage!
Suggested donation 25 NIS
Thank you for your help to keep the program running