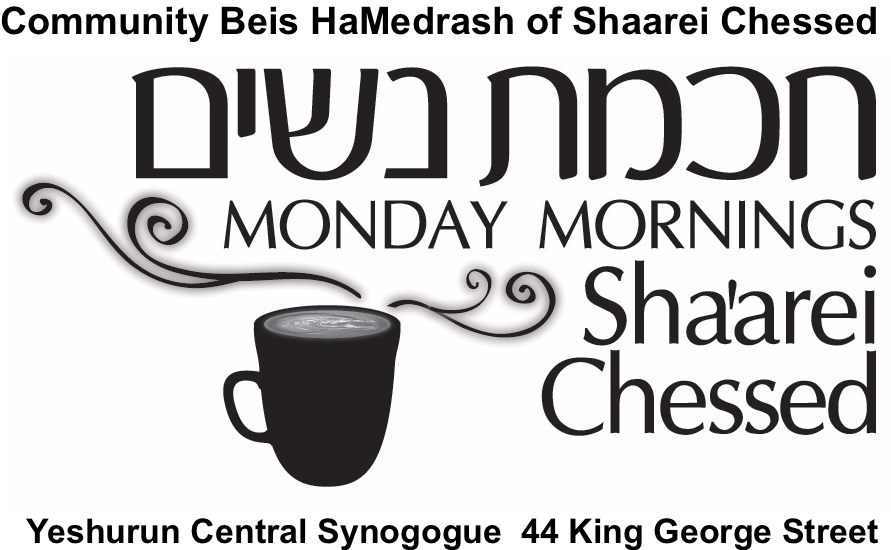 This Week's Schedule:
The Zoom Link is on the Member's Home page
The Shiurim today are sponsored by:
לזכות לרפואה שלמה
רפואת הנפש ורפואת הגוף
להבחור יוסף עזריאל בן חיה מיכל (רייט)
בתוך שאר חולה ישראל
______________________________________________
On the shloshim of my late sister-in-law
שרה אסתר בת צבי ע"ה
today
ת.נ.צ.ב.ה.
---
Charney Oppenheim
in memory of my father-in-law
Louis Oppenheim, 
Aryeh ben Yeshua z''l
yartzheit 19 of Tammuz
ת.נ.צ.ב.ה.
---
in thanks to Hashem for her recovery from surgery
10:15 - 11:00: Mrs. Hyndi Mendelowitz on Sefer Melachim and Tehillim
11:00 - 11:15: Coffee Break
11:15 - 12:05: Mrs. Rickie Rabinowitz on Parshas Vayera
12:05 - 12:15: Turnover Break
Guest Speaker
12:15 - 1:00: Rabbi Shmuel Herschler
"Starting the mourning period of the Three Weeks"
Please note: There is NO COST for the shiurim. Donations are welcome and helpful. Receipts will (eventually) be issued
(By law we do not have a tax-deductible status for 2 years).
It's a new system and it may take me some time. You may send an email to scshiur@gmail.com with your information and the amount you transferred.
Bank details for dedications, donations:
Acct name: Chachmat Nashim/ חכמת נשים
Bank HaDoar בנק הדואר
Snif : 001סניף
Account #: 27899446 חשבון
Thank you for your help to keep the program running. When sending a donation/dedications we kindly request you send monthly as opposed to weekly.
Suggested donation 25 NIS
Thank you for your help to keep the program running